In part 2 of our series looking at coping with a midlife crisis, Counsellor Janet Balcombe examines the features of this midlife transition and some techniques we can employ to deal with the mental and emotional impact.
Catch up on part 1 which looked at whether the midlife crisis is just an excuse for erratic behaviour or a genuinely difficult time of transition.
To manage a midlife crisis, we need to understand it
---
As we discovered in the first part of this series, many of us will reach our middle years and not be prepared for the potential emotional and mental rollercoaster. In order to manage this significant transition, we need to first understand its characteristics.
The very nature of a midlife crisis – questioning our own life choices, looking at our younger years longingly – means each experience will be unique. However, there are a number of common characteristics of a midlife crisis:
A slow rumbling dissatisfaction with life: what is it all for?
Feelings of low self-worth" I've achieved nothing! Glass half empty!
Mood changes: perhaps becoming more angry, grumpy, irritable, depressed.
A thirst for thrill-seeking experiences: passionate or sudden attraction to things that stir excitement (e.g. exercise or sports cars/ motorbikes, online gambling, illicit relationships).
Change in social behaviours: reluctance to attend family gatherings or conversely an increased acceptance of office party invitations.
Disruptive sleep patterns: difficulties getting to sleep or staying asleep.
Change in intimacy in a relationship: lack of interest in sex or increased interest in internet porn.
Reluctance to take responsibility: everyone else's fault.
Bouts of reflection about the good old days: speculation on what old friends might be up to and reconnecting with old flames on social media platforms.
How to deal with a midlife crisis
---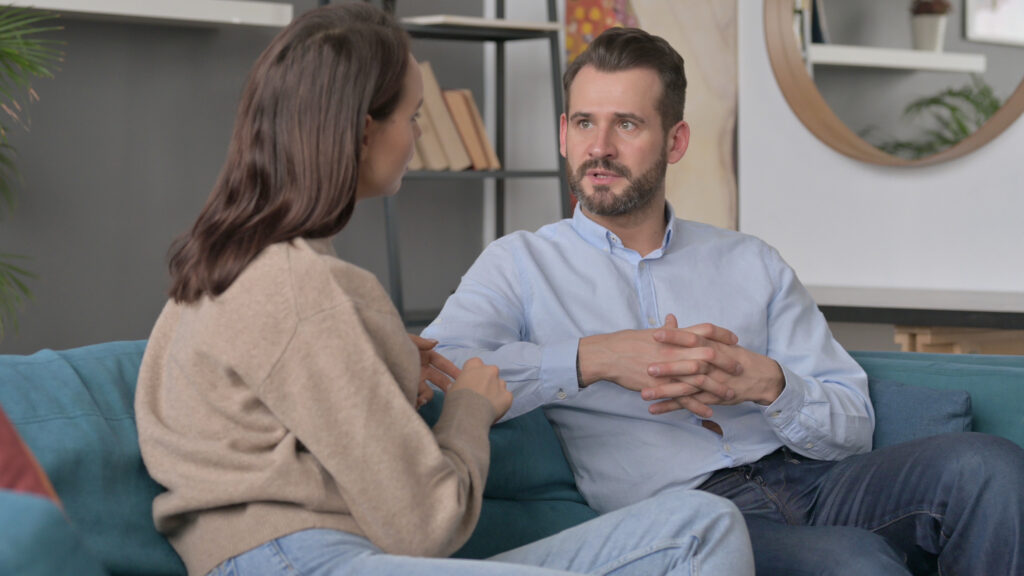 Though research suggests a period of midlife transition is likely, it is important to understand that it does not need to be as dramatic as the name suggests. The term midlife crisis was relevant to the research of Elliot Jacques (1) but it is not inevitable that we will all face such a significant dilemma.
From a psychotherapy perspective, there are techniques we can adopt to deal with the issues that might arise around such a period of review and introspection.
Stop the inner critic: When you find yourself critically reviewing your partners' behaviours – resist harbouring negative feelings. Avoid the blame game as there's little to be gained by thrashing over whose fault it is.
Search for the brighter you: an old jumper can feel very comfortable but doesn't necessarily hold the same attraction for your partner. Why save your best outfit for a special occasion. Believe that occasion is now!
Maintain intimacy. Hold hands: Physical affection helps couples foster feelings of trust and closeness. Studies show that the heart and breathing rates of people synchronise when holding hands.
Look to reignite the lost spark: Re-introduce some fun and adventure into your life but in ways that strengthen existing relationships.
Don't avoid the difficult issues in a relationship
Seek to balance negatives with positives. We often overlook what we have achieved.
Be kind to yourself.
Check out your decisions with someone you trust.
Change the language you use – aim for balance, positives as well as negatives
Seek professional help to talk things through if it's difficult to make sense of what's going on.
---
How counselling can help with important life transitions
If you find yourself struggling with issues like your life choices, relationships and place in the world, counselling can help you work through them. Counselling is all about working with a professional psychotherapist to make sense of difficult issues and the big transitions in life.
The Spark offers a range of counselling options which you can find out more about on our website or by calling freephone 0808 802 2088 during our opening hours.
References:
1 Jacques, Elliot. "Death and the Midlife Crisis", International Journal of Psychoanalysis, 1965.